Air Nomad Pets:
Sky Bison - Large, flying mammals; sacred to Air Nomads as original airbenders.
Winged-Lemur - Flying white and black lemurs kept as pets.
Hermit Crab - Crab with a shell-switching lifestyle, covered in a coat of black and white hair.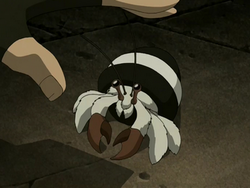 Firefly - Bioluminescent flying insect
Water Tribes: Arctic Hen - Hen that lives in the arctic, bred for meat.
Arctic Hippo - Hunted for its blubber.
Arctic Seal - Swimming mammals that live at the South Pole.
Buffalo Yak - Buffalo and yak cross, used for transportation.
Fish - Of various types.
Koalaotters - Koala and otter cross.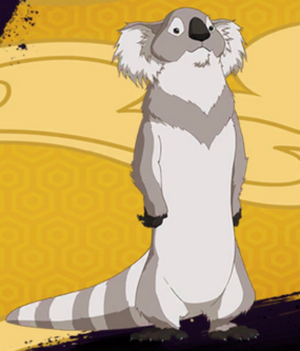 Octopus - Cephalopod that lives in the sea.
Otter-Penguin - Penguin and otter cross, can be used for "penguin-sledding".
Pengiun Fish - A greenish fish with big eyes
Polar Bear Dogs - Polar bear and dog cross, Southern Water Tribe pets.
Polar Leopard - Polar bear and leopard cross.
Polar Mouse - Small, arctic rodents
Sea Sponge - Aquatic invertebrate animal.
Tiger Seal - Striped brown seal, hunted for meat.
Turtle Seal - Brown seal with a hard shell.
White Hamsters - Small, white rodents.
Earth Kingdom:
Ant - Small insects that live in large colonies.
Armadillo Bear - Armadillo and bear cross.
Armadillo Lion - Armadillo and lion cross.
Badgermole - Badger and mole cross, original Earthbenders, blind.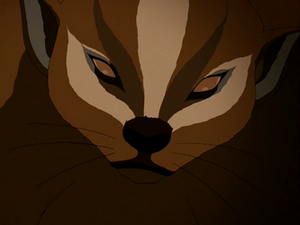 Blue Bird - Birds with blue feathers.
Bear - A large brown bear, extremely rare.
Bearded Cat - Domesticated feline with beard-like whiskers.
Boar-q-pine - Large wild boar covered in sharp, detachable spines.
Bull Antelope - Bull and antelope cross.
Bull Pig - Boar and bull cross.
Buzzard-Wasp - Enormous flying insects which live under the Si Wong Rock.
Cabbage Slug - Destructive agricultural pest.
Camelephant - Elephant and camel cross, used for transportation.
Canyon Crawler - Spider and crocodile cross.
Cat - Fluffy white cat with green eyes.
Cat Owl - Large, predatory bird with cat-like face.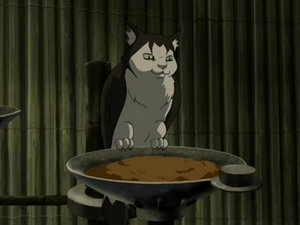 Catgator - Cat fish and alligator cross.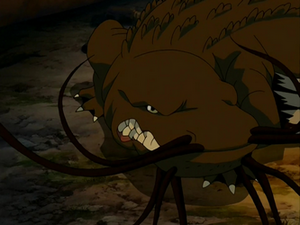 Chameleon - A small lizard with yellowish eyes and a crest on its head.
Dragonfly - Dragonfly and lizard cross.
Duck - Farmed bird, often roasted.
Eel Hound - Eel and hound cross, used for transportation on land and water.
Elbow Leech - Enormous leech, attaches only to elbows.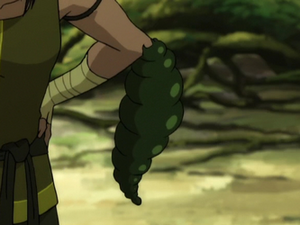 Elephant Koi - Enormous Koi fish.
Elephant Mandrill - Mandrill and elephant cross.
Elephant Rat - Elephant and rat cross.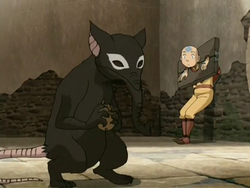 Fox Antelope - Fox and antelope cross.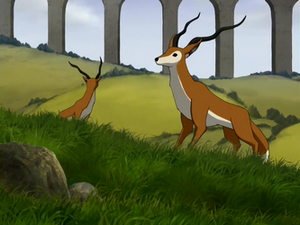 Giant Beetle - Giant beetle, used for transportation.
[imghttp://images3.wikia.nocookie.net/__cb20090430052506/avatar/images/thumb/8/8b/Giant_Beetle.png/300px-Giant_Beetle.png[/img]
Giant Fly- Giant bug, eaten in the Foggy Swamp.
Giant Night Crawler - Giant worm.
Gilacorn - Small, desert-dwelling, egg-stealing lizard.
Glow Fly - Fly that glows.
Gopher Bear - Hybrid-like beast of a gopher and a bear.
Gorilla Goat - Gorilla and goat cross.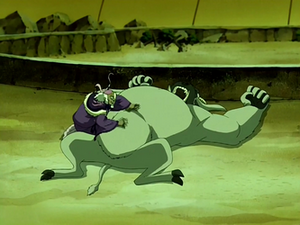 Hippo - Just a hippo.
Hybrid Pigs - Domesticated farm animals.
Hog Monkey - Forest-dwelling ape.
Hopping Llama - Presumably, a llama that can hop, as the name implies. Possibly a llama and kangaroo cross.
Jackalope - Jackrabbit with large antlers.
Leech-A-Pillar - Leeach and caterpillar cross.
Meadow Vole - Small white rodent.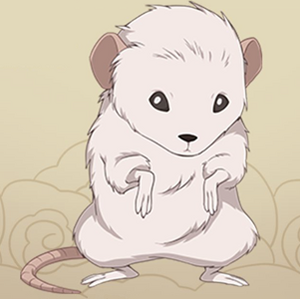 Ostrich Horse - Large brown bird, used for transportation.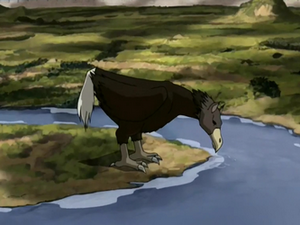 Platypus Bear - Platypus and bear cross, lays edible eggs.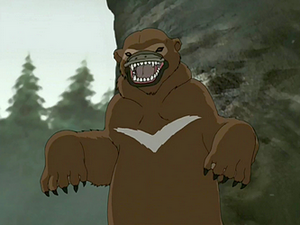 Poodle Monkey - Domesticated simian pet.
Purple Pentapus - Smalle, five-legged octopus, causes fake illness "Pentapox".
Pygmy Pumas - Smaller, sleeker versions of pumas bred for compact city living..
Rabbaroo - Rabbit and kangaroo cross.
Rabbit - A small, long-eared, mammal sometimes kept as a pet.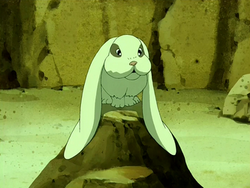 Raven Eagle - Raven and eagle cross.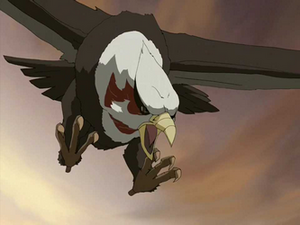 Reptile Bird - Green parrot and lizard cross.
Saber-tooth Moose-Lion - Moose and lion cross, cubs are non-aggressive.
Scorpion - Poisonous insect found in deserts
Screeching Dodo - White bird with piercing, shriek-like call.
Serpent - A serpent - like seahorse.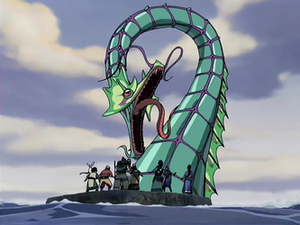 Se Tu - Giant, green catfish.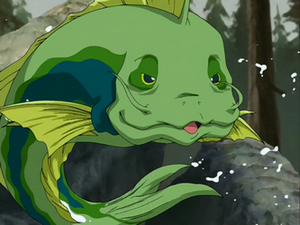 Scorpion Bee - Stinging, swarming, flying insect.
Shirshu - Large, has body of an anteater and dragon like head. It has no true eyes, a very keen sense of smell for navigation/seeking prey.
Singing Groundhog - Small, brown, furry rodent with musical call.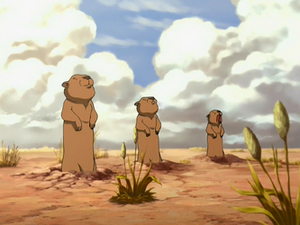 Skunk Bear - Skunk and bear cross.
Skunkfish - Foul smelling, oily fish.
Sooty Copper Fritillary - An orange and yellow butterfly.
Sparrowkeet - Dove-sized birds, sometimes kept as pets.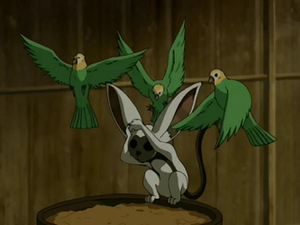 Spider - Eight-legged, web-weaving arachnid.
Turkey Duck - Turkey and duck cross.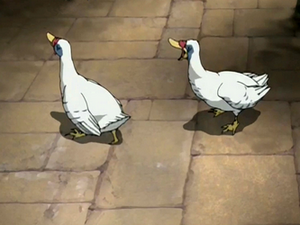 Unagi - Enormous eel that inhabit Kyoshi Island.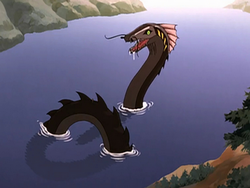 Wolfbats - Large, snub-nosed bats found in caves.
Wood Frog - Frog found in swamps with medicinal properties
Fire Nation:
Anteater Sloth - Anteater and sloth cross, have a sloth-like body and an anteater head with a long tongue, seen in The Firebending Masters.
Badgerfrog - Badger and frog cross.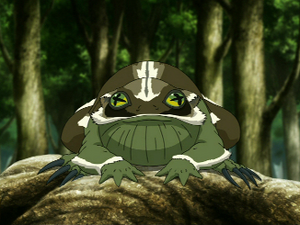 Boar-q-pine - Large wild boar covered in sharp, detachable spines.
Cave-Hopper - White insect with four legs.
Clam - Water-dwelling mollusk, easily affected by pollution.
Cow Hippo - Domesticated, meat-eating animal with black and white spots.
Dragon - Large, horned reptile with a long body; the first firebenders.
http://images3.wikia.nocookie.net/__cb20090415000230/avatar/images/thumb/b/b3/Sozin_dragon.png/250px-Sozin_dragon.png" border="0" alt="" />
Dragon Hawk - Messenger birds of prey with dark red or brown feathers.
Dragon Moose - Dragon and moose cross.
Duck - Farmed bird, often roasted.
Elephant Rat - Elephant and rat cross.
Iguana Seal - Large aquatic reptile
Koala Sheep - Koala and sheep cross.
Komodo Rhino - Komodo dragon and rhinoceros cross.
Mongoose Dragon - Mongoose and dragon cross.
Sea Lion - Large, aquatic mammal, sometimes used for transportation.
Sea Raven - Fierce, black seabirds.
Sea Slug - Large slug, sometimes cooked.
Snail Sloth - Snail and sloth cross.
Toucan-Puffin - Sea birds with large, colorful bills.
Turtle Ducks - Ducks with protective shells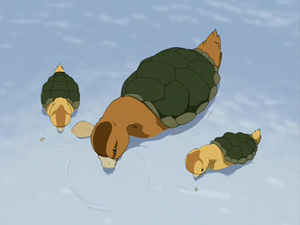 Vulture Griffin - Vulture and griffin cross.
Lion Turtle - Lion and turtle cross